Best 5 Dun-Rite Pool Basketball Hoops To Buy In 2021 Reviews
Are you interested in buying a Dunn-Rite Basketball Hoop?
Then you should read my article.
In this article, I will describe and compare the best Dunn-rite basketball hoops as well as tell you about the Dunn-Rite company, other products they produce and their quality.

The Dunn-Rite Brand Information
Long History Of Development
The company has been developing products for water lovers since 1983. Up to today, the Dunn-Rite company is continuously advancing and improving not only in quality but also in product design. Their products are modern and salt-friendly, meaning you can use them at sea and they will not be ruined by all the salt.
Dunn-Rite Products For All Ages
The Dunn-Rite company offers a wide range of products for water and water sports. Their currently trending products are inflatable paddleboards, basketball hoops, and floating coolers. Moreover, they also offer skimmers, paddles, and RC boats, hoops as well as parts and accessories as backboards, basketballs, volleyballs, basketball and volleyball nets, bases, and many others.
Dunn-Rite Official Website
You can buy all the Dunn-Rite products on their official website where you can easily make an account and register. In addition, if you wish to contact them, they are available on Facebook, Twitter, Instagram, and Pinterest, or you can call them. However, I would recommend purchasing their products on Amazon.com because there you can a wide range of products at cheaper prices and special discounts.
Warranty And Returns
If you are unsatisfied with your product, you may return it unopened within 30 days for a full refund, and paid shipping costs if the mistake is not yours. However, if you wish to return a part, shipping costs are not paid by the company.
Best 5 Dunn-Rite Pool Basketball Hoop Reviews
Dunnrite Splash And Shoot Pool Basketball Hoop
Made of Base, Rim, Post And Backboard
The product is composed of 4 main parts: base, rim, post, and backboard. All the hardware needed for assemblage is provided and a white net also comes with the basketball hoop. In addition, you also get a basketball that is color-matched with the hoop. Most importantly, it is easy and simple to install.
Fits Perfectly In Swimming Pools
The Dunrite splash and shoot B600 model is 43 Inch x 28.5 Inch and fits perfectly in swimming pools. The post is made of heavy-duty aluminum, the pole is aluminum powder coated and is telescopic, meaning that the height can be adjusted. The base is high-quality polyethylene and weighs 200 lbs when filled with water. Moreover, the rim is vinyl coated and stainless steel. To ensure that the hoop is sturdy, the polyurethane backboard is reinforced.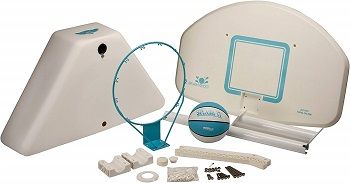 Made of Durable Materials
The company gives a 3-year limited warranty with the product. However, this product is of high quality and resistant and will surely last longer than three years. The metal elements are made of stainless steel so it will not rust. In addition, the parts are made for wet conditions with durable material and are even salt pool system compatible. This product is designed for users of all ages and is a great way to have fun and be recreative at the same time.
Characteristics:
stainless steel elements
height adjustable pole
salt pool system compatible
easy to install
Dunnrite Splash And Shoot Pool Basketball Hoop (Clear) Version
The Splash and shoot basketball hoop model can also come in a clear, transparent color of the backboard. The backboard is clear because it is made of polycarbonate, while the frame remains blue.
Dunn-Rite Splash And Slam Basketball Hoop
Easy To Assemble And Easily Portable
The set contains three main parts: the base, backboard, and rim. In addition, you also get a regulation-sized ball and a net. All the hardware that comes with the set is not susceptible to rusting or external conditions. The hoop is easy to assemble, the base of the hoop needs to be filled with water, this, as well as the design of the hoop, ensures that the unit can not be pulled and that it can not fall on you. Moreover, it is also designed to be easily portable.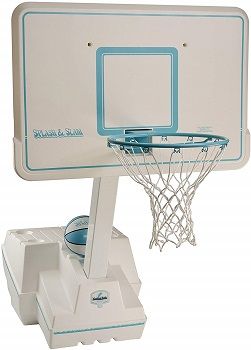 Adjustable And Durable Backboard
The Dunnrite Splash and Slam poly backboard is 30 x 44 inches and is adjustable to make up for possible unevenness of the pool. The base is polyethylene weighs 500 lbs when filled with water, on the base, there is a space where you insert the post. The post is adjustable in height and in order to do it no tools are needed. Lastly, the rim of the hoop regulation-sized, made of stainless steel and vinyl-coated. On the rim, there are also hooks on which you attach the net.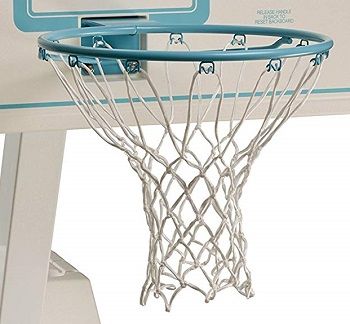 3-Year Warranty
The hoop is warranted up to three years from the date of the purchase, and it applies to all the defects in material or production mistakes. If there is direct evidence that the malfunction has been caused by the negligence of the company, the part will be replaced or fixed free of charge. The materials from which the hoop is made are itself highly durable to weather conditions, they do not rust or corrode which guarantees countless moments using it without any breakage.
Characteristics:
easily portable
adjustable base and backboard
hard to pull when slam dunking
Dunnrite Poolsport Pool Basketball Hoop
4 Separate Parts + Ball
With the purchase of Dunnrite Pool Basketball, you receive 4 separate parts that you have to assemble: base, rim, backboard, and net. The set also includes a regulation-sized ball and hardware needed for assembling. The pool basketball is easy to set up and it is also portable. Moreover, the pedestal on the backboard makes the rim to outstretch more and enables players to approach the rim without having to come so close to the edge of the pool. Most importantly, the unit is easy to install.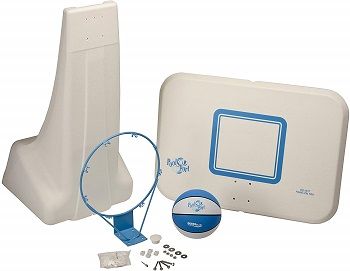 Durable And Sun-Resistant Materials
The backboard of the basketball is silk-screened and poly and measures 22 x 31 inches. This silk-screened top layer ensures that the backboard is not prone to be sun-damaged or water damaged. Similarly, the rim that is made of stainless steel has hooks to attach the net, and due to the vinyl coat, it is additionally protected against weather conditions, water with chlorine and rust. The base is 17 inches wide and 19 inches deep, and it needs to be filled with water. The size of the hoop is optimal and appropriate for all generations.
Replaceable Parts During  3-Year Warranty
The Dunn Rite company provides a 3-year warranty from the date of the purchase. All parts can be replaced free of charge if the malfunction is proven to be due to negligence during production. However, the hoop is highly durable and with care, it can last very long and provide groups of all ages with countless adventures playing pool basketball.
Characteristics:
sun-resistant materials
outstretched rim
ball included
easy to install
Conclusion: Why Should You Buy These Dunnrite Basketball Hoops?
The first Dunnrite Slam And Shoot model is perfect for players of all ages because it has a pole that can be adjusted easily in hight. On the other hand, the Dunnrite Poolsport Pool Basketball model can be assembled easily and quickly because there is no separate pole and base.
If you are interested in other basketball hoops for younger children, you can read my article about toddler basketball hoop. In case you are considering buying a lower budget basketball hoop, you should read this article about cheap basketball hoops for sale. And if you need to browse basketball hoops made by different manufacturers read my article about basketball hoops for sale.