Top 3 Swimline Floating & Pool Basketball Hoop Reviews 2021
Are you thinking of buying a Swimline basketball hoop?
Then you should definitely read this article!
I will be describing and comparing three different models of Swimline basketball hoop available on the market. You can read all about their specifications, advantages, and disadvantages and decide for yourself which one is the best!
Swimline Pool Company Information
Variety Of Water And Swimming Pool Products
Besides floating pool and pool basketball hoop, Swimline offers all sorts of od inflatable products such as kayaks, paddleboards, lounges, swans, flamingos, pizza, etc. All of this is essential for a fun pool day with family and friends. They even offer pool covers and tools for pool maintenance as well as swim accessories such as goggles.
Price Range Of Swimline Pool And Floating Basketball Hoops
Based on the reviews for the Swimline pool basketball hoop, this brand is situated somewhere in the middle of the price range compared to other brands. For this middle price, you will get a pool basketball hoop of good quality and easy to use and assemble.
Where To Buy A Swimline Pool & Floating Basketball Hoop
Although there is an official company site, I would recommend buying from online retailers such as Amazon. Unlike the official company site, Amazon offers shipping to countries all over the world. Also on the Amazon, you can read reviews and experiences from other users which can help you make a decision on which products to buy.
Customer Service & Warranty
Swimline company offers a 1-year warranty on all their products purchased from their website and they also offer a 30-day return for a full refund. Their customer service is very user-friendly and if you have any questions you can contact them via their e-mail or phone.
3 Best Pool Basketball Hoops From Swimline Reviews
Swimline Giant Shootball Basketball Swimming Pool Game Toy
Colour, Design And General Use
Swimline Giant Shootball Basketball Swimming Pool is a product designed for children as a pool game. It comes in orange color with blue on the top and the bottom side of a product which has a circular shape. This is a game made mostly for use in a pool since it requires footing while playing.
Material And Practicality
This inflatable floating game is 45" tall and 36" wide. It is made of heavy gauge vinyl. It's the biggest flaw would be that it immediately deflates and since it's inflatable it's also easily blown away by the wind. The design itself is pretty impractical because it is pretty hard to reach the ball after shooting a basket.
Extra Equipment
It comes with multiple ports for multiple shooters and one basketball. It is available for purchase on Amazon site in two options: 1 pack or 2 pack. You wouldn't need a pump to blow it up. It fills in few different chambers so you can blow it up yourself.
Characteristics:
Inflatable pool game designed for children
Easy blown away
Multi ports for multi shooters
Swimline Super Hoops Floating Basketball Game
Design And Colors
This Swimline floating basketball hoop is a product mainly designed for children for the use as a fun game to play at the pool or the lake, but there is nothing stopping adults to use it as well. It has white edges with a hoop made of three colors: white, red and blue and a white rim. Design is very practical for use and the coloring is nice and neutral, so it doesn't stick out much.
Material, Measures, And Practicality
Swimline Super Hoops Floating Basketball Game is lightweight and durable, which are advantages of its heavy-duty PVC. The dimensions it comes in are 13" top hoop, bottom hoop 19" and the ball that comes with it is 7". It is portable which makes it the perfect addition to any pool or lake. One main flaw is that since it is designed as a floating product, it can easily get blown away by the wind and therefore isn't practical for the use of the ocean.
Additional Equipment And Purchase Options
As I have mentioned earlier, it comes with a basketball included and also a heavy-duty net. You can also choose on Amazon site whether you want it in 1 pack or 2 pack.
Characteristics:
Suitable for pool or lake, not the ocean
Designed for children use mainly
Portable, durable and lightweight
Comes in 1 pack and 2 pack
Swimline Cool Jam Pro Poolside Basketball
Design And Colour
Swimline Cool Jam Pro Basketball Hoop is also a product designed primarily for children's use. It has a wide molded hard-body backboard that comes in white color and a hoop which is in colors of white, red and blue with a white rim as well. It also has a "Cool jam Pro" inscription in the middle of a backboard which is in the same colors as the hoop.
Material And Dimensions
The dimensions of a Swimline Cool Jam Pro Poolside Basketball are a 44" wide by 32" height. The white backboard is made of heavy-duty plastic and it is rust-proof and very durable, as well as the rim of the hoop. In addition, it is very easy to assemble as well, and it has a customer-friendly price with a commercial-quality basketball hoop.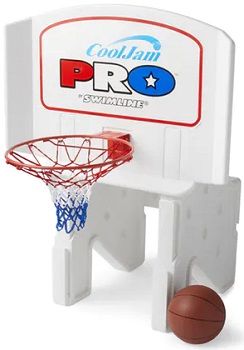 Extra Equipment And Shipping
Swimline Cool Jam Pro Poolside Basketball is adjustable, multi-height poolside basketball. It comes with a heavy-duty net, metal hoop and a ball which is a regular size basketball. It also comes with a 1-year warranty on the rim in case you need a replacement. This product is shipped in Certified Frustration-Free Packaging, meaning it is recyclable, easy to use without any excess packaging.
Characteristics:
Primarily for children to use
Easy to assemble and customer-friendly price
Made of plastic, durable and rust-proof
Swimline Pool Jam Basketball Replacement Parts:
If you need a Pool Jam Basketball Replacement Net, you can find extra nets on the Amazon site. Additionally, Swimline also offers replacement nets, rims, and decals on its official company site.
Conclusion: Why You Should Buy These Swimline Pool Basketball Hoops?
The Swimline Super Hoops Floating Basketball Game is an ideal pool or lake game for children, especially because it's very lightweight. If you want something that's easy to assemble, you should go for Swimline Cool Jam Pro Poolside Basketball. Both models are extremely durable and user-friendly.
If you want to learn more about basketball hoops from other brands, read this review on the best basketball hoops, and if you're interested in buying more affordable basketball hoops read this article about cheap basketball hoops for sale. Also, if you are more interested in something smaller, read my post about tiny basketball hoop models!